The DTC model is all that and a bag of chips. Anyone in the business of e-commerce knows that DTC brands are the creators and innovators when it comes to both product and strategy.
So I've gathered up some key data on these beasts that show:
How much of the market they truly represent
How brands and even the DTC model itself are adapting
And most importantly, what drives their success 
And you lucky souls get to utilize this information to drive your business forward.
1. DTC Brands Comprise Approximately 13 Percent of All Ecommerce Businesses in the US (PipeCandy)
It's estimated that there are approximately 110,000 – 120,000 DTC companies in the US. By comparison, there are around 800,000 e-commerce sites.
These figures show the phenomenal growth of the DTC model in recent years. It now takes up a significant chunk of the market.
It's no surprise given the advantages associated with this type of business. New brands benefit from easier entry into the market, for example. One reason for this is that the technology and tools available today help with every aspect of running a small business, from design to fulfillment. 
So, essentially, any small company has a chance of succeeding in the industry as the resources are there. Let this be your inspiration if you're considering starting your own DTC company.
You may also be interested to learn that more than 75 percent of DTC brands in the US fall into the fashion and apparel, home and garden, or food and beverage categories.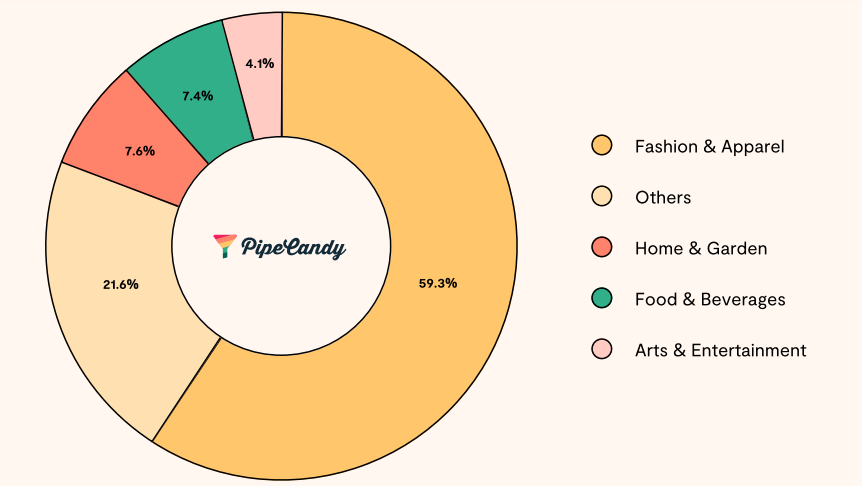 There's a reason why businesses in these product categories, in particular, thrive under the DTC model. 
For instance, the fashion industry is constantly changing. Given the fact that DTCs have ownership over their own customer data and the product development process, it's much easier for DTC fashion brands to move with these changes.
Therefore, existing e-commerce brands and up-and-comers in these categories may wish to consider adopting the DTC model.
2. DTC Sales Will Account for One in Seven Ecommerce Dollars in 2022 (Insider Intelligence)
This shows that today's consumers are used to going directly to the brand to make a purchase. And again, it gives us an insight into the growth of DTC brands and where they stand within the industry.
The rise of DTC businesses in recent years was fueled by a few key factors. 
First, the COVID-19 pandemic meant that shifts in the business world happened much quicker. It was inevitable that there would eventually be a greater focus on selling via digital channels. But, because of the pandemic, brands were forced to implement change, and owned digital channels were the best way to do it.
Cultural shifts have also influenced the growth of DTC brands enormously. More and more consumers seek out brands that are trustworthy, that stands for something, and that offer them value beyond a transactional relationship.
DTC brands, of course, embody these qualities. The increasingly conscious consumer is concerned about where their money goes. So naturally, they'll spend their dollars with DTC companies.
3. Established Brands will Bag 75.5 Percent of DTC Sales in 2022 (Insider Intelligence)
When we think of DTC brands, we immediately think of the digitally-native brands. In other words, those that were founded on the web and operate on the web (at least initially), as in the likes of Warby Parker, Casper, etc.
But brands that are already established are also going after the DTC model now. They were forced to respond to the societal shifts mentioned above and the emerging DTC movement.
Hence, established brands are also adding direct channels and innovating in the way DTCs do. They're upgrading not only their sales channels but also the entire customer experience.
Nike is one of the most prominent examples of this. Its direct channel now makes up 35 percent of its profits.
Nike's DTC strategy places its digital channels and owned stores at the forefront. Plus, they've made some really interesting moves to ensure they cater to the complex customer journey and reach customers at every possible touchpoint.
For instance, inside Nike's NY flagship store, mannequins have QR codes that connect to the Nike app on their bases. Customers can scan these codes and request a fitting room be set up for them with the right products in the right sizes. 
Customers can also request and pick up items via the app while they're in-store.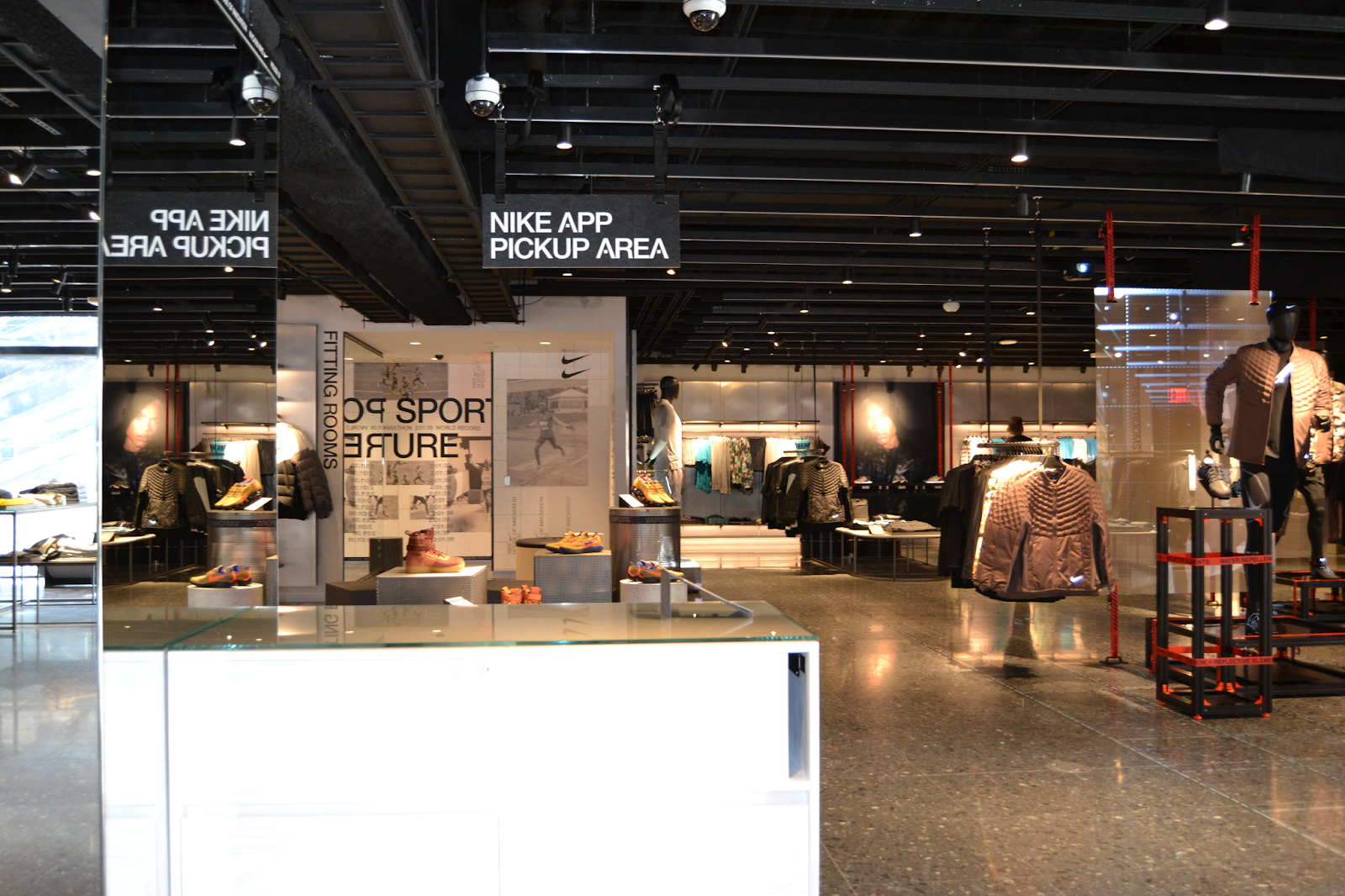 This means the app is essential to the in-store experience. So Nike is able to collect first-party data from customers even when they shop in person.
Nike is exemplary in showing what established retail brands can do to jump on the DTC train.
4. Fast, Free Shipping Is the Top Reason Consumers Would Choose a Traditional Retailer Over a DTC Company (Diffusion)
Forty percent of Americans would forgo a DTC as traditional retailers provide fast, free shipping. 
As a DTC scales, shipping and fulfillment do indeed become more complex. Big retailers with robust systems in place are able to offer fast shipping options such as Amazon's one-day delivery. 
To get around this problem, DTC brands either have to invest in their logistics or work with a third-party logistics company.
Another difficult problem to get around is the fact that traditional retailers are on consumers' doorsteps. Thirty-two percent prefer traditional retailers, thanks to their convenience and accessibility. When a customer runs out of a product, it's easier and quicker to head to a local store to replace it, for instance.
For this reason, you need good sales strategies in place. You may wish to offer a subscription service that's personalized to the precise needs of each customer. That way, they'll receive products at the right intervals for them.
You can also use the customer's purchase history to figure out when they need to replace items. Then send out a reminder email to the customer before they run out of the product, as in this example: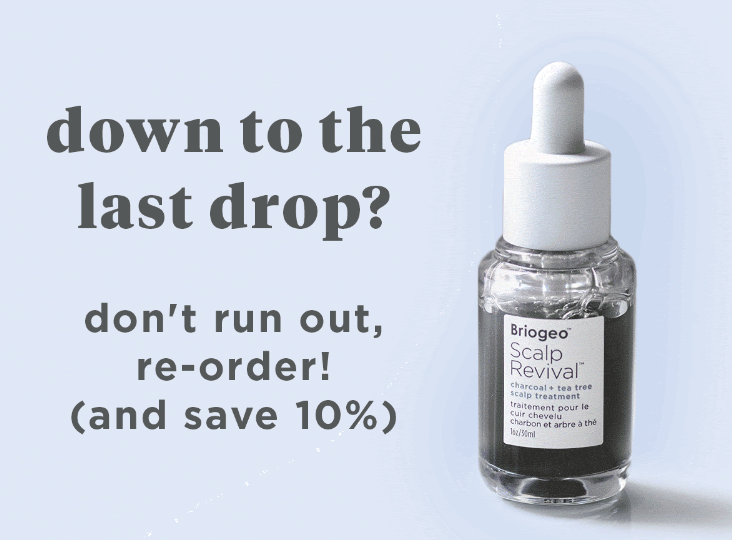 Furthermore, some digitally-native DTC brands attempt to solve the issue of accessibility by providing the amenities of an in-store experience to online customers. To give you just a couple of examples, they might provide virtual try-ons or private consultations.
5. Twenty Three Percent of Consumers say DTCs Offer Better Quality Products (Diffusion)
Plus, 18 percent say that DTC companies provide better customer service and experience.
These statistics make sense as DTC brands are renowned for their ongoing product development and obsessive focus on the customer experience. Because they have ownership over the entire process, they're able to offer a smooth, personalized experience to every customer. 
This is also true for established brands that adopt the DTC model. Just look at the kind of experiences Nike is creating, as mentioned above.
This is all possible through the collection of data, relationship building, and optimization of both the product and journey. And these things tend to come down to an ongoing feedback loop.
Brands gather data and insights from owned channels. That way, they're able to consistently meet the changing desires of customers.
To give you an example, the lingerie brand Adore Me uses AI and customer sentiment analysis to gather insights from tens of thousands of reviews. This process has allowed them to pinpoint and fix specific issues with their product, such as a faulty front clasp on a certain model of a bra.
Furthermore, the brand has a number of sister brands with related product lines that cater to specific audience segments, such as maternity and menopause wear: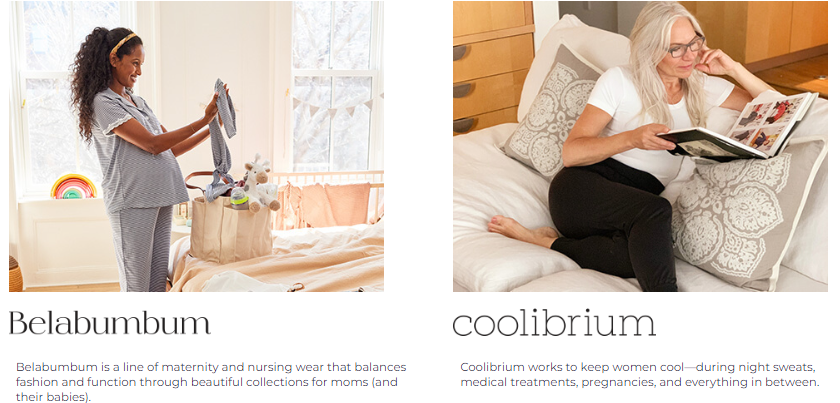 Adore Me is clearly very good at listening to the needs of customers and reflecting those needs in the products it develops.
6. DTC Brands in the Top 25 Percent Have a 5x Higher Customer Lifetime Value (RetentionX)
If you're wondering how to be a successful DTC brand, this statistic provides your answer. The top DTC brands place retention and customer lifetime value above customer acquisition.
At the end of the day, creating long-lasting relationships with customers is more profitable and meaningful for everybody involved. But how do you create such relationships?
One option is to set up a superior customer loyalty program. Anybody can set up a program, of course, but DTCs tend to do it in a way that brings more value and a more personalized experience to the customer.
Hero Cosmetics, for example, uses a points-based program: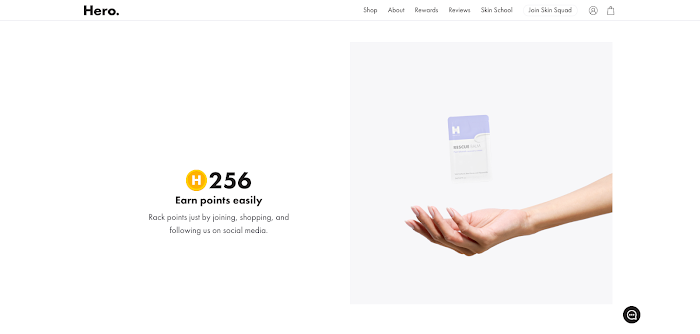 Customers aren't simply given rewards when they reach a certain threshold. They get to actually choose what they want and what's right for them.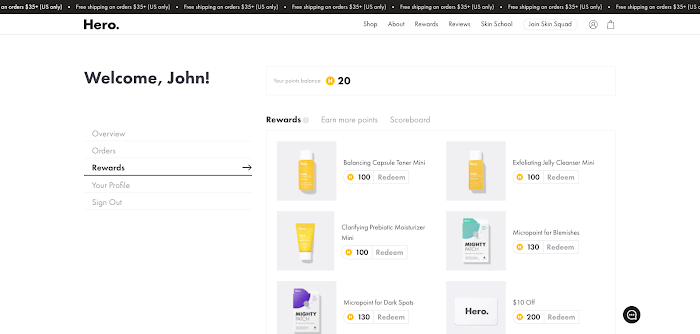 Another way to create long-term relationships with customers is to foster a sense of community. When customers feel like they're a part of something, they're more likely to stick around for longer.
4Ocean, for example, has combined its subscription service with a sort of VIP club: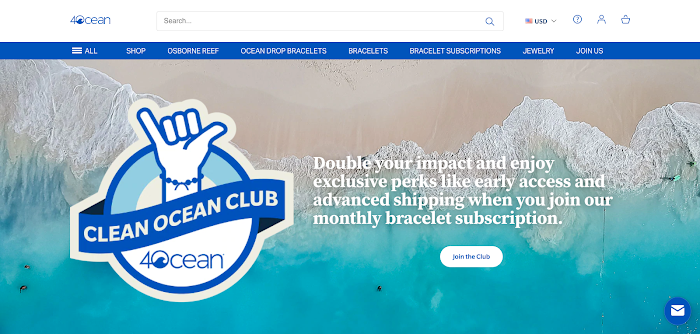 Members not only get the product each month but also exclusive perks such as early access to new lines. It's a smart way to build a community of customers that are in it for the long haul and encourage them to make even more purchases over the course of the relationship.
7. Around 47 Percent of Small to Mid-Market DTC Brands Have Some Product Presence in a Brick-and-Mortar Store (PipeCandy)
This statistic shows that what it means to be a DTC is changing. 
You can see it in the way that digitally-native brands are getting a physical presence and established brands are adopting a direct channel. It's all starting to merge nicely.
The customer journey has multiple touchpoints, after all. So digitally-native brands can use a physical product presence to drive sales via their online channels.
For this reason, many DTC brands now use flagship stores, pop-ups, collabs with big box stores, and so on. But, as is apt for a DTC, these options are way more about the customer experience than making in-store sales.
For instance, Fabletics has stores in London and Berlin. Customers can go in and physically see and feel the items. They then order them via touchscreens in-store, and the products are sent to their homes:

This shows how digital and physical channels can work together in harmony.
What's more, the Fabletics stores host events, fitness classes, and the like. Again this is all about providing a positive experience and forming connections with customers. When you run events in this way, you form a community around your brand, and the brand becomes a part of the customer's lifestyle.
8. Sixty-One Percent of Consumers Say Individual Brands Offer a More Personalized Experience (Kelton)
As we've touched upon, DTC companies are much more able to offer a personalized experience thanks to the availability of first-party data. 
They can, for example, offer hyper-personalized product recommendations and other relevant content. Not only that, they're able to personalize the entire customer journey.
You could do something similar by segmenting customers according to their behaviors and/or the stage they're at in the customer lifecycle. Using a tool like Drip, you could then send an automated series of relevant emails.
For instance, after purchase number two, you might email the customer inviting them to join your social communities. And after purchase number three, an email with a personalized reward. It's all about extending that relationship and lifetime value.
It's also worth noting that 66 percent of consumers say it's easier to understand an individual brand's values. This means that DTC brands can create a personal connection with customers through their personality and what they stand for.
Here's an example from oat milk latte seller Clevr: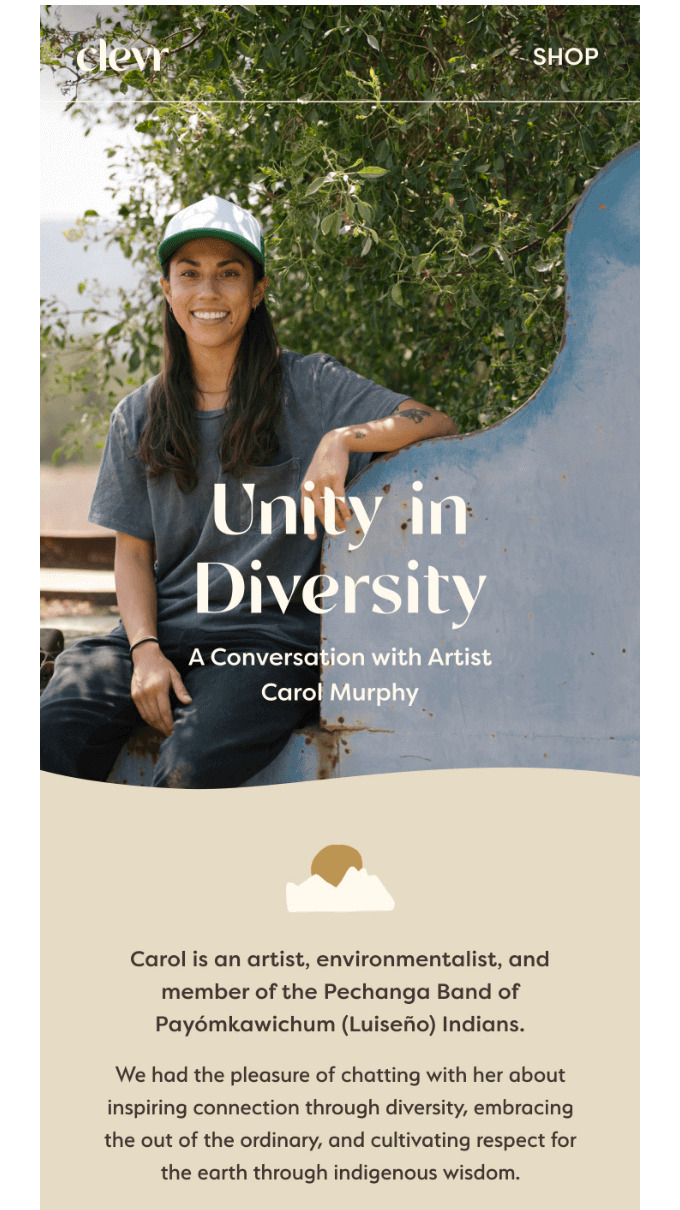 The email features the story of an LGBT, native American artist along with her feelings on diversity and oneness with nature. Hence, it touches on a number of values from a personal perspective.
Unlike a traditional retailer that stocks multiple brands and products, a DTC company isn't just some faceless entity. It has a distinct viewpoint that people can relate to.
Final Word
The DTC model already takes up a healthy chunk of the market. It's only going to grow in popularity among businesses and consumers. The ever-changing consumer mindset, societal shifts, and advancements in tech mean this type of business can flourish. 
DTC and established brands are both adapting to meet consumer expectations and a new retail environment. This involves strategies such as combining online and offline experiences, fostering long-term relationships, and personalizing consumer journeys.
All in all, you must stay on top of the kind of trends featured here to succeed in the modern e-commerce landscape.