The holidays are coming and it's time to decorate your online marketing with holiday email templates.
That's right. It's already time for your business to be thinking about making the most of big shopping holidays such as Black Friday (Nov. 26, 2021), Cyber Monday (Nov. 29, 2021), Small Business Saturday (Nov. 27, 2021), Christmas, etc.
And if you're like most small businesses and organizations, email marketing will play a big role in how you communicate with your customers and get the word out about your upcoming holiday promotions.
If you haven't started planning your holiday email marketing, don't worry, we have the professionally designed holiday email templates you need to save time and stand out in your customers' inboxes.
I've curated this group of holiday email templates just for you. With notes on my favorites, and a peek into next year. Enjoy!
Thanksgiving email templates
While not traditionally thought of as a big retail day, the weeks leading up to Thanksgiving will likely find you, and your customers, shopping for new fall decor, trying out new recipes, and buying extra ingredients "just in case."
This makes your Thanksgiving newsletter a great time to share fun Thanksgiving stories, favorite recipes, and discounts on anything "fall" related.
My Favorite Thanksgiving template: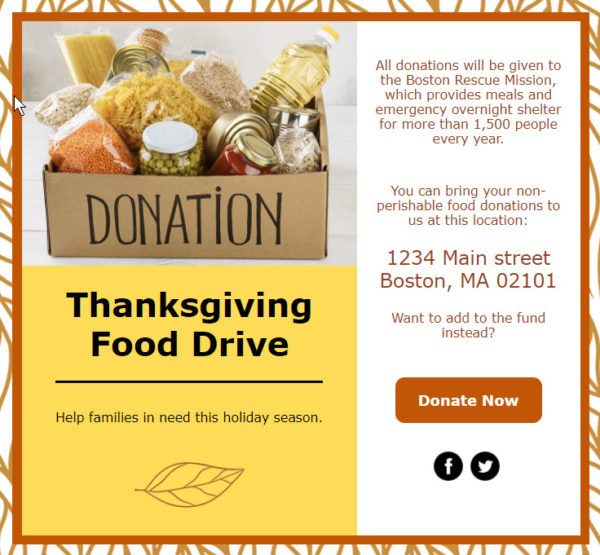 More great Thanksgiving email templates:
Black Friday email templates
Black Friday isn't just for big box stores. With more people focusing on supporting local businesses, you might find that it's easier than ever to attract customers to your store with a great offer or a special Black Friday promotion of your own.
My favorite Black Friday template:
More great Black Friday email templates:
Black Friday Deals

Black Friday eCommerce

Black Friday Tag Sale
Small Business Saturday email templates
This year, it's important to remember that a lot of people are still shopping online, rather than going into a local store for Small Business Saturday. So, make sure you're website is not only up to date but that you also have a way for your customers to make purchases online. Then, get the word out about what you have to offer. 
To help you get started, we have some great Small Business Saturday email templates to choose from.
My favorite Small Business Saturday email template: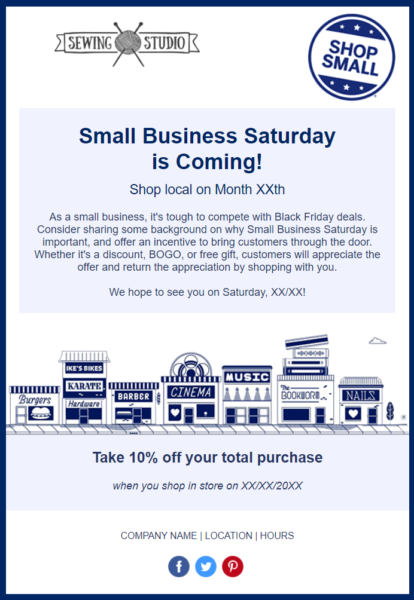 A couple more great Small Business Saturday templates:
Small Business Saturday Offfer

Small Business Saturday Card
Cyber Monday email templates
In the past, Cyber Monday has been the day where consumers have done the majority of their shopping online. And although people are doing a lot of online shopping these days, no matter what day of the year it is, Cyber Monday is still known for great online deals.
To get in on the action, come up with a great online offer and share it with your email contacts. If you don't have an ecommerce store, you can still take advantage of Cyber Monday by creating a local offer that can be purchased online and redeemed at your store — like gift certificates or limited edition gift baskets. Once you create the offer get the word out to your contacts with one of our fun email templates.
My favorite Cyber Monday email template:
More fun Cyber Monday email templates:
Cyber Monday

Cyber Monday Sale 2

Cyber Monday Event
Giving Tuesday email templates
If you run a non-profit, you know how important Giving Tuesday can be for fundraising. And, hopefully, you're already working on this years Giving Tuesday fundraising plan. While you're putting that plan in motion, be sure to use one of these great email templates.
My favorite Giving Tuesday email template:
More for the asking:
Giving Tuesday Offer

Giving Tuesday
Christmas email templates
With so many Happy Holidays email templates being used these days, a Christmas-themed email can really stand out in your customers' inboxes. So, if it aligns with your brand, be specific and send out Christmas "cards" to your email contacts.
My favorite Christmas email template: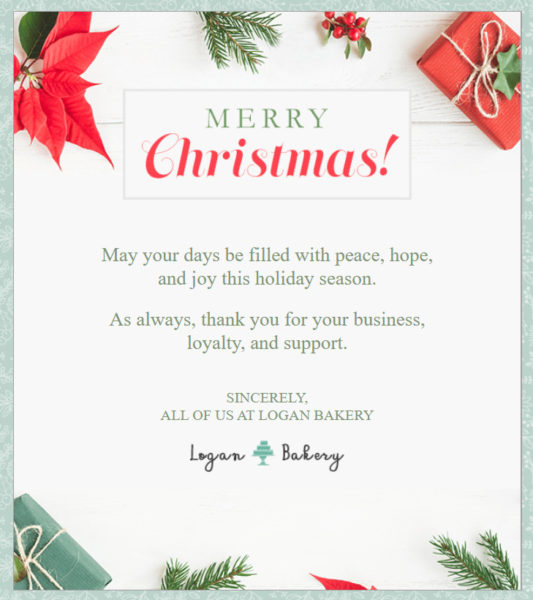 More absolutely wonderful Christmas email templates:
Winter Season and Happy Holidays email templates
Besides Christmas, there are lots of reasons to celebrate during the winter months. Including winter itself! Take a look at these great winter season templates and share some cheer with your contacts this winter.
My favorite seasonal email template: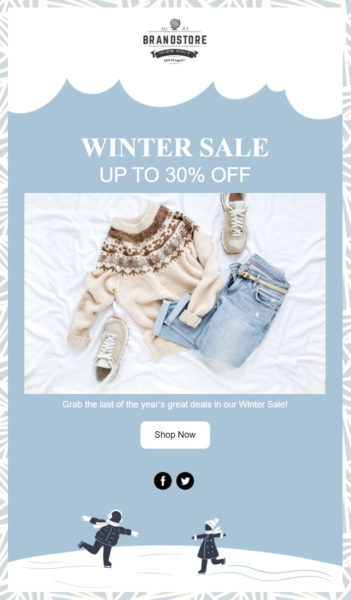 A wonderland of winter email templates to choose from:
New Year's email templates
The New Year is a time to celebrate. For some it's because we made it through another year and for others it's a chance to begin again, to change our ways, to do better.
Whether you'll be making resolutions or not this year, make sure to start the new year right with your contacts.
My favorite New Year's email template: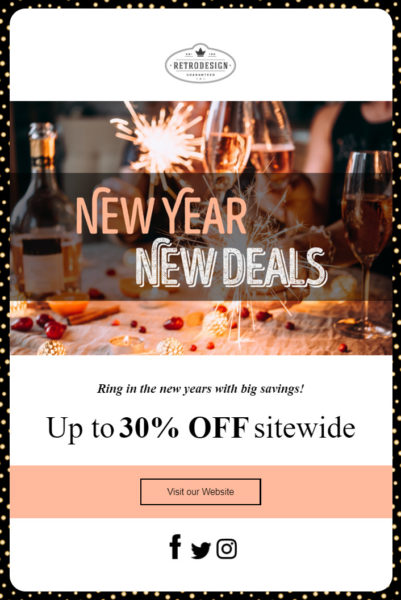 Templates to get us into the New Year:
If you aren't ready to send your holiday emails just yet, get ahead of the game by drafting and scheduling emails in advance.
Moving into the New Year
I couldn't finish out this post without sharing one of my favorite New Year's holiday email templates:
Just the beginning
While this may seem like a lot of holiday email templates, it's just the beginning. Constant Contact also has holiday .gif email templates that are playful and fun — if you're interested in something like that. And every year our designers create additional holiday email templates for you to choose from.
So, go ahead, dive in and see what you can create for this holiday season!
Looking for something that not just anyone has? Talk to our customer service team at #855-273-0449 and ask about getting a holiday template packet or better yet, ask about having our Professional Services Team design a holiday template just for you and your business.